Product details of NATUREPLEX EXTRA STRENGTH MUSCLE RUB Fast Penetrating Pain Relieving Gel (42.5g)
NEW Product Available!
Natureplex Extra Strength MUSCLE RUB Fast Penetrating Pain Relieving Gel Menthol 2.5% (42.5g)
100% AUTHENTIC & IMPORTED
MADE IN USA
BRAND: Natureplex
EXP DATE: MAR & JUL 2025
Fast penetrating relief of muscle aches and arthritis pain.
Menthol 2.5%
Fast relief from Arthritis pain, Backache, Muscle pain, Joint pain, bruises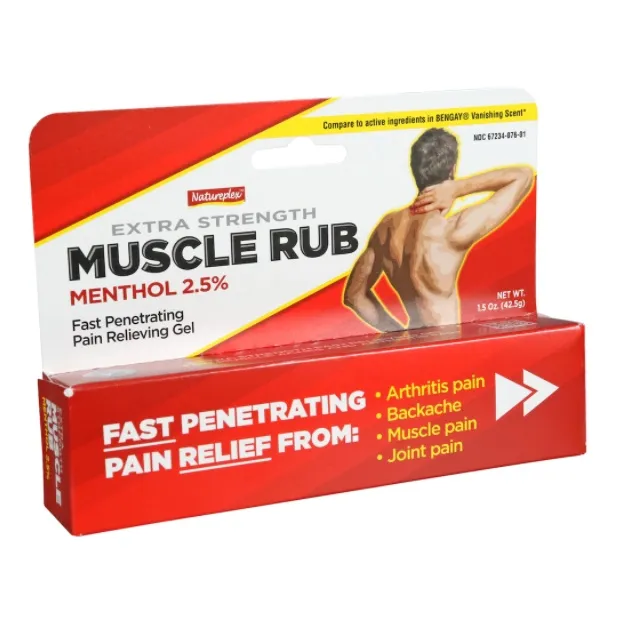 Natureplex Extra Strength MUSCLE RUB Fast Penetrating Pain Relieving Gel 42.5g | Made in USA Are you tired of dealing with muscle pain? NATUREPLEX Extra Strength Muscle Rub Fast Penetrating Pain Relieving Gel (42.5g) is here to help you alleviate your pain in no time! Our fast-acting formula penetrates deep into the muscles to quickly relieve pain and discomfort.
▪Fast penetrating relief of muscle aches and arthritis pain.
▪Menthol 2.5%
✔Fast relief from:
>Arthritis pain
>Backache
>Muscle pain
>Joint pain
>bruises The fast-acting formula is designed to provide fast relief from muscle pain, cramps, and soreness. It is also great for soothing joint pain caused by arthritis or other conditions. Simply apply a small amount of the gel to the affected area and massage it in until it is fully absorbed. Our NATUREPLEX muscle rub comes in a convenient 42.5g tube, making it easy to take wherever you go. Whether you need it after a workout, a long day at work, or just to alleviate everyday aches and pains, this muscle rub is the perfect solution. WARNINGS:
*Avoid contact with the eyes or on mucous membranes.
*Do not use it on wounds or damaged skin.
*When using this product do not bandage or wrap tightly.
DIRECTIONS:
*Adults and children 2 years of age and older: apply to the affected area up to 3 to 4 times daily.
*Children under 2 years of age: consult a doctor.